Our Floating Trips
All Trips include FREE PARKING, FREE SHUTLLE to the top of the Horseshoe, and the longer trip includes FREE SHUTTLE ride back to your car. See our toob rates.
There are 2 main float trips down the Guadalupe River:
THESE TIMES ARE SUBJECT TO CHANGE DUE TO
CHANGES IN THE OUTFLOW FROM THE DAM.

The times below are estimates for when
the flow is at "Recreational" levels:
Medium 3.5hr Trip - Be on water by 3pm
Starts from the lower bridge at the end of the "horseshoe loop" and runs 1.5 miles to the 4th crossing bridge. You will encounter 3 old dams, stay to the right on the first one.
Short 1hr Horeshoe Trip - Be on water by 5:30pm
It is only a short shuttle to the beginning of the "horseshoe" and the ride is 1 mile long.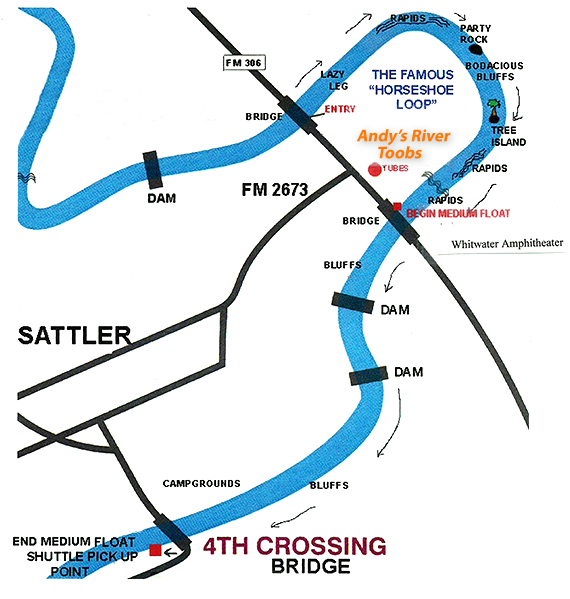 Usually you must have rented your tube and be on the water by the times listed above.
Alternative Route:
You can skip the horseshoe and take the short walk downhill on the paved path with stairs and begin before the first bridge. This route will take about 45 minutes off of your trip time and is easiest. This is preferable for heavy tubes and large groups.
Safety Patrol
Comal County Sheriff's officers like to post up about 100 yards before the first bridge all the way up to the last bend in the Horseshoe before the big rocks if your floating.
They will be on your right hand side, possibly in the water, and usually with binoculars. They do give out citations, check I.D.'s and search coolers. Be responsible. No Glass of any kind is allowed, nor is Styrofoam, nor are any containters that hold less than 5oz (i.e., jello shots).
NO MINORS IN POSSESSION OF OR UNDER THE INFLUENCE OF ALCOHOL.